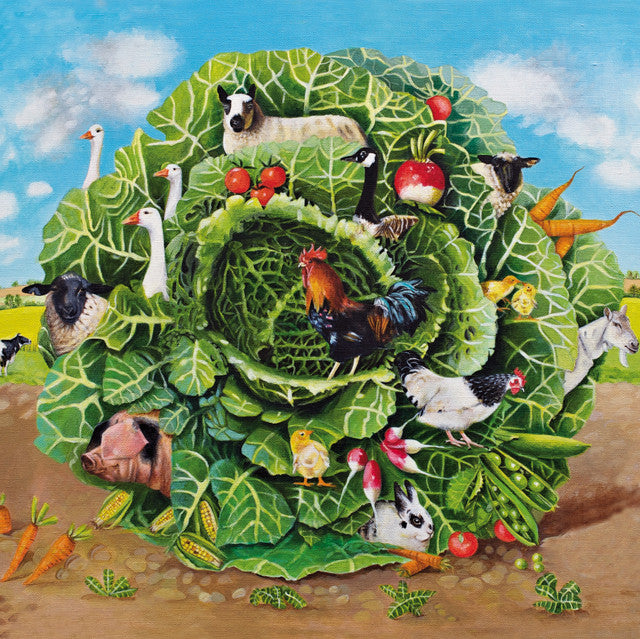 It's not often Green Pebble steps outside the realms of the possible, but we couldn't resist EB Watts' sense of humour and playful compositions. Her canvases are beautifully painted - taking many weeks of deliberation - and brighten up the dreariest of days. If you want to cheer someone up (and possibly get them to eat their greens), why not stick a sheep, a goose and a radish in a cabbage, after all?
Here, EB Watts tells the story behind this particular painting:
'I have a passion for cabbages. I love their shape, the big leaves on the outside getting smaller towards the middle.

Having decided on painting the Cabbage, I like to think where I see it: a cottage garden or a farmer's backyard close to barns and fields. The leaves are like wonderful nesting places, comfortable and safe.
Next the animals spring to mind. The rooster is centre stage as you always hear the rooster. He makes you think of chickens eggs and early morning. Each animal is typical of any farm and here the Cabbage becomes the farmyard, but obviously in a different way.

The vegtables are from every garden too. They are fresh and ripe and delicious. I love the shape of the peas and radishes and could paint them over and over again.
Each time I think of an idea, I try to push my imagination further and further, so in the end, some of the combinations or situations are surreal or extraordinary. I like to surprise and pursue originality, but not for the sake of it. I enjoy taking the most common image, such as the Cabbage , and making it look beautiful, because if treated carefully it will get the attention it deserves!
I am very influenced by the seasons, how I feel, hot or cold, and what I see around me,green fields or snow covered ground. This Farmyard Cabbage with the animals and vegetables is a burst of summer.'